One of my favorite stationery company's has been closed for the last few months, because the owner was out on maternity leave with her precious new baby girl. But this morning, my e-mail box greeted me with a cute little e-mail that Nicole Balch has opened
Pink Loves Brown
back up for business! One of my favorite of her items are the little paper suitcases. How cute are these? Go over and check out her site. And if you need a special little personalized gift, Nicole has several cute stationery sets to choose from.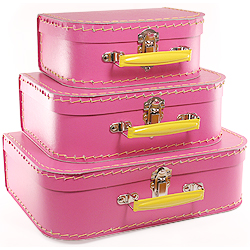 I actually aspire to have a little stationery/invite/paper goods store myself someday, but until then, I can't help but gawk at the beautiful prints from stationers online.
Last night, the Mr. and I made a trip to the grocery store. I don't enjoy grocery shopping too much, but it has to be done, so there really is no avoiding it. We were in a hurry, but I grabbed a cook book I got as a wedding gift, and pulled some recipes from there. We shopped based on those recipes, and all of them are new things for me. Dinner tonight will be my first attempt, and I am crossing my fingers for everything to come out great. The recipes have all been tested and tried, so at least I know they should be great, unlike some brownies I made this weekend.
On Saturday, the big OU/Texas game was on, and Kyle and a couple of his friends were watching the game. We had a great spread of burgers and hot dogs for lunch, but later on, I decided to make some brownies for the guys. I found a recipe online, and went with it. They were awful. I promise I followed the recipe to a T, but they lacked flavor, and were just crumbling and falling apart. What did I do wrong?! I would share the recipe with you, but I can't find it again. They had butter, sugar, vanilla, flour, cocoa and eggs, but something was not right. I bought some more cocoa at the grocery store last night. I have to redeem myself. Seriously, having to tell some 20-something guys they don't get to have brownies is not a good thing. And to add to it, OU lost. Sad day.
So here's to a week of new recipes and delicious brownies. Hope it's a good one for you too!